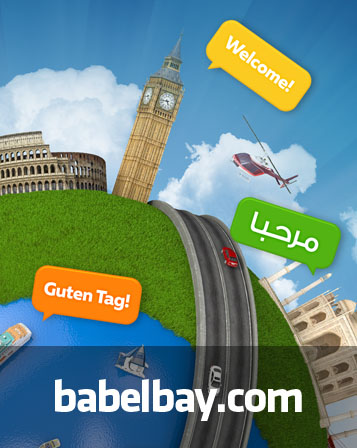 Frequently Asked Questions
Babel Bay is a premium language learning service. Our service contains interactive courses on some of the world's most popular languages. They are perfect for beginners, travelers or anyone who wants to improve their foreign language vocabulary.
---
What do I do with Babel Bay?
Babel Bay is the ideal tool to help you learn the basics of some of the world's most popular languages. Whether you want to learn conversational phrases for your next holiday or business trip, or just brush up on a language you are familiar with, Babel Bay is the perfect place to begin. As a traveler, you will be able to confidently meet and greet people, learn about their culture, ask for directions, converse at the airport and even order for some food.
---
Am I eligible to use Babel Bay?
You must be 18 or older or have permission from your parents, legal guardians or anyone authorised to pay your bill.
---
Where can I use Babel Bay?
Our concise language courses are perfect to learn on the go, wherever you are, whenever you want. Babel Bay is the perfect platform for your self-directed learning goals.
---
Can I use it on my phone?
Babel Bay is compatible with all mobile devices (smartphones, tablets and feature phones). The best user experience is through smartphones and requires 2G and up.
---
How many language courses are offered?
Babel Bay offers 6 of the world's most popular languages – Arabic, French, Spanish, Italian, Russian and German. These courses contain everyday terms and phrases that are necessary to communicate effectively.
---
Which languages does Babel Bay support?
Babel Bay is currently available 7 languages, but we are working on adding new languages to reach all corners of the world.
---
How did I get subscribed to Babel Bay?
You came across one of our promotional pages and followed the subscription process by clicking on the subscribe button. Afterwards, we confirmed your enrollment by sending you an SMS message.
---
Is there a charge for using Babel Bay?
You are charged the rate that is mentioned on the promotional page that you visited when you subscribed to the service. You can also find it in the welcome message you received upon subscribing and in the monthly SMS reminder you receive from us.
---
How can I manage my subscription?
Our Customer Service Team and we will be happy to help you. Details on how to get in touch with us are in next FAQ: 'How can I get in touch with Customer Service?'.
---
How can I get in touch with Customer Service?
---
Why does your service show up under a different name on my phone bill?
These are due to naming conventions or limitations on operators billing and invoicing platforms.
---
Why do you keep sending me text message reminders?
This is a mandatory requirement from the mobile regulator. We only send SMS reminders to active subscribers.
---
How often do you add new content to the courses?
We are constantly enriching our language courses, adding new phrases and terms to keep up with current language trends across the world.
---
How do I subscribe to Babel Bay?
Best is to visit one of our promotional pages!
---
How am I charged for the service?
Subscription charges will be deducted directly from your prepaid mobile balance, or will reflect in your monthly post-paid bill. The service charge is weekly, and you will receive an SMS notification once the transaction is processed.
---
How can I check and manage my subscriptions?
---
How can I contact Customer Service?
---
When should I apply for a refund?
If you are not 100% satisfied with our service, you may request for a refund. Please get in contact with our Customer Service Team who will assist you in the best possible way.
---
How does your refund process work?
Please get in touch with our Customer Service Team, always mentioning the mobile number and your email address. Once we process your request through our Customer Care Team, you will be provided a link where you will need to fill out your refund details. These will vary depending on your location and payment method, such as IBAN number or PayPal. Once you submit your refund application, we will begin processing your request. Please note that you can only submit a refund application once, so ensure you fill in the correct details.
---
What happens if my refund details are incorrect?
In case you fill out incorrect details, we will reach out to you to recheck the submission. Please note, this may extend the refund process by some days.
---
How long does it take to process a refund?
Depending on your preferred method of payment, refunds can take up to 10 business days. A refund via PayPal is the quickest way and takes up to 2 business days to process from the moment we receive your details. Please be patient and rest assured we will do our best to resolve your request at the soonest.